Michael Koole
July 18 – September 16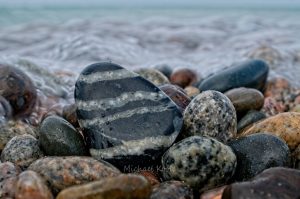 Superior Details:
A closer look at the Lake Superior Shoreline, predominantly around the Mouth of the Two-Hearted River.
Among the beauty of Lake Superior's grand sweeping vistas, it is often all too easy to overlook the details. Details of the individual stones, and the feathers that have been shed. Feathers and rocks now combine to decorate the shoreline with soft fragility contrasted to the cold hardness of the rocks.
…Look Deeper
Looking deeper means to look past the bigger picture and to appreciate the details of that are often overlooked. So take time to pause, reflect, and to consider the beauty of creation in the details as well as the grander views.
Artist Bio
I view photography as a personal pursuit, using it to view the world differently, to look beyond the obvious. I guess I could be described as one with a curious nature, always exploring the 'How' and the 'Why' of things in the world. Exploration of what is around the corner or what's on the other side of the hill is a personal fascination.
Capturing imagery that evokes curiosity in others are what compels my photography pursuits. I strive look at things differently, to see the everyday item from a different view and understand the details that that create the whole item.
I've pursed photography as an enthusiast and hobbyist for many years and enjoy sharing images that ask questions and evoke stories. My work has been accepted in various juried exhibitions and has earned local, regional and international recognition. · MichaelKoole@Ymail.com · www.MichaelKoole.com
Exhibits in the Dogwood Lobby Gallery are courtesy of  Newaygo County Council for the Arts – Artsplace.