Wednesday, July 12 – Calvin University: January Series in July – Jennifer L. Holberg – 12:30 p.m. Black Box
July 12 @ 12:30 pm

-

1:30 pm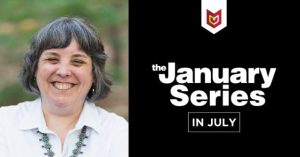 Jennifer L. Holberg is the chair of the English department at Calvin University, where she has been on faculty since 1998. She co-directs the Calvin Center for Faith and Writing, which "endeavors to create spaces wherein people from many faith traditions are welcomed warmly, listened to with respect and generosity, and inspired to deeper engagement with the common good." Among its many initiatives, the Center's signature event is the Festival of Faith and Writing, held every other year. Holberg's first book, published by Eerdmans, was an edited collection of speeches and interviews from the Festival, entitled Shouts and Whispers: Twenty-One Writers Speak About Their Writing and Their Faith. Shouts and Whispers, which received a coveted starred review from Publishers Weekly. Her interest in the intersections of faith and literature also shows up in her biweekly contributions as one of the regular writers at the Reformed Journal, a blog about contemporary issues through a Reformed Christian lens.
This lecture will be broadcast live at the Dogwood Center from 12:30-1:30 p.m. Admission is free.
For more information on the Calvin University January Series click here.
The Dogwood Center, a remote site for the Calvin University January Series, is supported in part by the Fremont Area Community Foundation.