Saturday, September 23 – "A Tribute to Fleetwood Mac" Kait Rose and The Band of Thornes 7:30 p.m. Main Stage
September 23 @ 7:30 pm

-

9:30 pm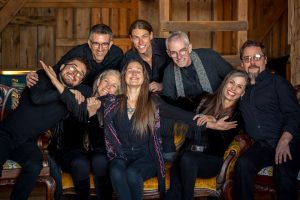 Kalamazoo's Kait Rose, and a star studded line up of professional musicians, present A Tribute to Fleetwood Mac. This show is sure to bring to audiences a fun filled night of dancing and singing along with your favorite Fleetwood Mac songs.
Kait has been playing guitar and writing songs since the summer of 2001 after finding her mom's Alvarez in the hallway closet.  By the end of the day she taught herself the theme song to The Godfather, which made her Italian grandmother very proud.
Since then, Kait has recorded four full length solo-albums in various basements and attics of friends and family members including All My Roses, Sentience, The Ideal and Organic Travels.
Click here to purchase your tickets. Tickets are $17.50 each. The Dogwood Center is located one mile east of downtown Fremont. Doors open for seating at 7:00 p.m. Online sales close two hours prior to events, please call the box office for ticket availability at 231-924-8885 if online sales have ended. The Dogwood Center Box Office is open Tuesday – Friday, 10:00 a.m. – 2:30 p.m. Tickets are available online at www.dogwoodcenter.com, at the Dogwood Box Office, or at NCCA-Artsplace in downtown Fremont. For more information, phone 231.924.8885.