Saturday, June 10 – Goldpine 7:30 p.m. Black Box
June 10 @ 7:30 pm

-

9:30 pm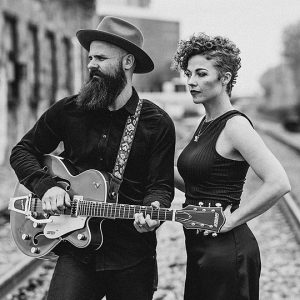 Through a chance encounter in Nashville back in 2006, Benjamin and Kassie Wilson were sure of each other from the start. "Kassie knew she was going to marry me from the first time she saw me…and she was right," Ben gloats. Formerly known as 'My One and Only', the duo has reimagined their "southern-soul," "curious-grit" and emotionally honest lyrics into Goldpine. After nearly a decade of homing in on their sound, they're ready to give the world their self-produced debut LP, One.
With this fresh start, Goldpine wastes no time showing what they stand for. Their lead single, "Wander Away," is somewhat of a public service announcement about mental health. "We explored the ideas of separating yourself from worries and giving yourself a break," Ben shares. "I think it's so important that when we are in a place where we feel like we are in need, maybe that is the exact time to reach out to others who are also in need." The track begins with a soft picking guitar, alongside Ben & Kassie's unmistakable harmonies — sonically putting you at ease — leading up to a fuller sound that showcases Kassie's powerhouse of a voice.
Staying true to their vision from the very beginning, Goldpine continues to stand out. With their debut album of "heart-wrenching songs about loss, raucous tunes about how music is perceived as an art, and short songs about being over-zealous" on the way, 2023 shows an auspicious future for the pair.
Click here for tickets. Tickets are $12.50 each. General admission, Black Box. Tables can be reserved with the purchase of eight tickets. The Dogwood Center is located one mile east of downtown Fremont. Doors open for seating at 7:00 p.m. Online sales close two hours prior to events, please call the box office for ticket availability at 231-924-8885 if online sales have ended. The Dogwood Center Box Office is open Tuesday – Friday, 10:00 a.m. – 2:30 p.m. Tickets are available online at www.dogwoodcenter.com, at the Dogwood Box Office, or at NCCA-Artsplace in downtown Fremont. For more information, phone 231.924.8885.