Friday, January 13 – Erin Zindle & The Ragbirds 7:30 p.m. Black Box
January 13 @ 7:30 pm

-

9:30 pm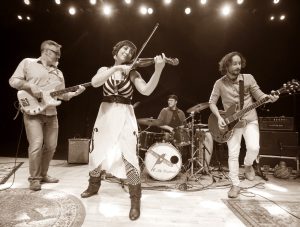 Erin Zindle is the songwriter, fiddler, and leader of the nationally-touring folk-rock band Erin Zindle & The Ragbirds. With a genre-bending hybrid of indie-pop melodies, global-infused beats, rock guitar riffs, conscious lyrics and virtuosic fiddling, Erin Zindle & The Ragbirds deliver something that's hard to define. Their music is equally danceable, intelligent, and vulnerable – a rare combination in an increasingly marketing-driven industry.
At each performance, Erin transforms into a seemingly-mythical creature who dances with graceful arms outstretched, hand-made wings glued to her shoulders, recklessly digging into her fiddle strings with her bow. Her voice is both earthy and ethereal, full of character and texture with lyrics that point to the daily paradox of intentionally cultivating hope in the midst of a crazed and jaded world. She skillfully switches between violin, kalimba, piano, and accordion, never losing her infectious smile.
Click here for tickets. Tickets are $15.00 each. General admission, Black Box. Tables can be reserved with the purchase of eight tickets. The Dogwood Center is located one mile east of downtown Fremont. Doors open for seating at 7:00 p.m.
Online sales close two hours prior to events, please call the box office for ticket availability at 231-924-8885 if online sales have ended.