August 6 – Jake Allen 7:30 p.m. Black Box.
August 6, 2022 @ 7:30 pm

-

9:30 pm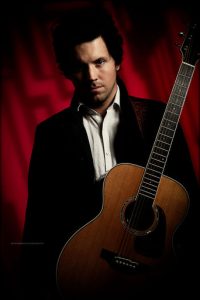 Michigan native, Jake Allen crafts a kaleidoscopic sound that plunges the curious listener into a world of endless sonic possibilities, incorporating prog-pop, waves of ambient instrumentals, and complex musical layers. Allen showcases the guitar, harnessing every nuance of the instrument and transforming it into an ethereal, shape-shifting creature that bends both notes and time.  
Allen explores numerous musical styles with his guitar wizardry, ranging from lullaby-like dreams to burgeoning anthems. A documentarian of sorts, Allen's immersive storytelling and emotional vocal performance offer a multi-timbral journey through time and space. The constant groove of driving drums, bewitching guitar hooks, and the whisper of a longing voice spark wonder, evoking similarities to pop music's golden '90s era. His fourth album, "Affirmation Day" provides a snapshot of shifting perspectives and personal growth through the means of signature fingerpicking, percussive guitar tapping, and lush musical arrangements. 
As a solo artist, Allen utilizes impeccably timed live looping to create a captivating one-man show. Steeped in years of live performance and well-versed in an array of instruments, Allen's dexterity is only amplified when he wields a single guitar. In an almost hypnotic display, he explores every inch of the instrument with unwavering confidence and creativity. Strings dance as they are plucked awake from their resting tension; percussive rhythms echo; harmonics ring brightly; and intricate chords emerge from each warm strum.  
Click here to purchase your tickets now! Tickets are $12.50 each. General admission, Black Box. Tables can be reserved with the purchase of eight tickets. The Dogwood Center is located one mile east of downtown Fremont. Doors open for seating at 7:00 p.m.
Online sales close two hours prior to events, please call the box office for ticket availability at 231-924-8885 if online sales have ended.